The OpenScience Laboratory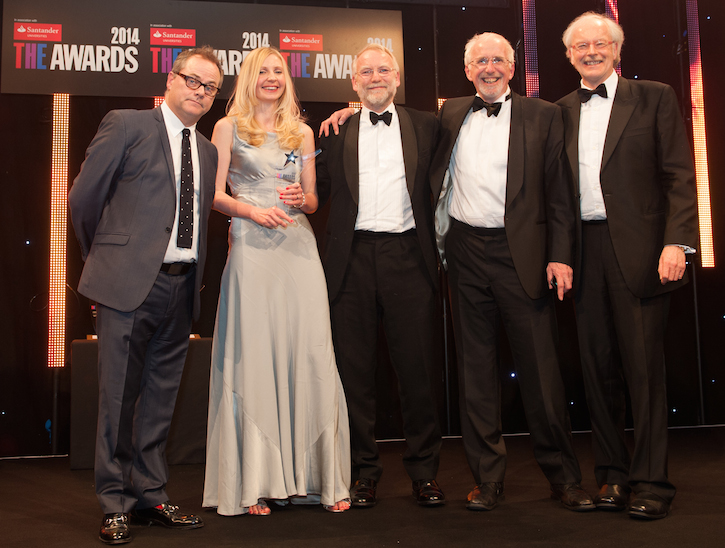 Left to Right: Jack Dee (Awards event host), Kat Garrow, Nicholas Braithwaite, Stephen Swithenby, Martyn Harrow (Chief executive, Jisc, the sponsors of this award)
The report of Jisc blogger Martin Hamilton is here 
(http://www.jisc.ac.uk/blog/celebrating-outstanding-ict-in-uk-higher-education-28-nov-2014)
You can see the trophy up close by clicking the VIEW OBJECT link in the virtual microscope collection
(http://www.virtualmicroscope.org/content/times-higher-education-award)
Click the image above to read the award nomination.
Core team
Co-Directors: Prof Nicholas Braithwaite & Prof Stephen Swithenby
Project Managers: Dr Kat Garrow & Dr James Smith
Production Coordinators: Brian Richardson & Joe Mills
Project support: Tracy Bartlett & Beverly Casling
Academic Investigators/Project Leaders
Dept. Earth, Environment & Ecosystems:  Dr Tom Argles, Dr Angela Coe, Dr Sarah Davies,
Prof Nigel Harris, Prof Simon Kelley, Prof Jonathan Silvertown
Dept. Physical Sciences: Dr Silvia Bergamini, Dr Jim Hague, Prof Bob Lambourne, Dr Chris Barrett, Dr Paul Hatherly, Dr Ulrich Kolb, Prof Glenn White
Dept. Life, Health & Chemical Sciences: Prof David Male, Dr Eleanor Crabb, Dr Vicky Taylor, Dr Mark Hirst
Dept. Computing: Dr Shailey Minocha, Prof Marian Petre
Knowledge Media Institute: Prof Stefan Rueger
Institute of Educational Technology: Dr Liz Fitzgerald, Prof Eileen Scanlon, Prof Mike Sharples,
Dr Will Woods
Research Fellows/Project Officers
Janice Ansine, Dr Eloy Villasclaras-Fernandez, Dr Mike Dodd, Rachel Ward
Research Students
Maria Aristeidou, Marcus Brodeur, Duygu Simsek
Software developers
Internal: Dr Greg Black, Dr Andy Sutton, Dr Will Rawes, Rob Barnes
External: Daden.co.uk + Learnexx.com
Graphic Design
Sarah Crompton, Matthew Rigby-Burr, Sara Hack + Diane Mole
IT
Sam Marshall, Bryan Waddington, Ian Cameron
Visit experiment
You are not signed in to this website. More facilities might be available if you
sign in
.