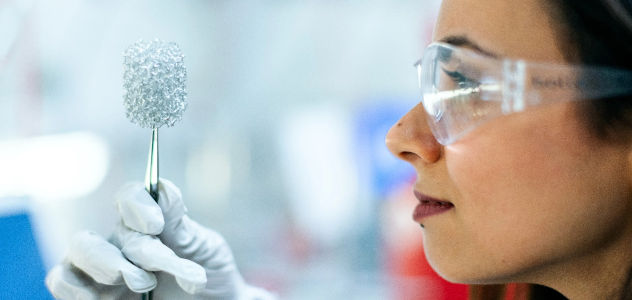 Dive into experiments with real data. Use instruments ranging from virtual microscopes to remotely controlled auto-titrators. The Laboratory hosts over 100 practical science activities with on-screen instruments, remote access equipment, citizen science platforms and virtual scenarios.
Experiments
Histology & histopathology

A collection of 320 annotated slides covering basic histology and histopathology.

1-15 hours

Eating for energy

An investigation into why greater horseshoe bats are so rare in Britain today.

1 hour

Variation in vegetation: the heather hypothesis

Sample virtual transects to gather data on species of heather.

2.5 hours

Maps and landforms

Learn how to interpret maps and how to use a compass.

1 hour

Sorting out soils

Examine the physical and chemical characteristics of soil.

2.5 hours

Fine Beam Tube

Access to real data from which users can determine a fundamental electron property.

2-5 hours

Compton scattering

Remotely controlled Compton scattering: relativistic dynamics and the electron mass.

4-5 hours

Exploring nature with iSpot

Identify anything in nature - a guide to help you develop your skills and interest in nature.

1-3 hours

Ecological interactions on iSpot

Discover & record the ecological interactions among species.

1-3 hours

Light Harvesters

Value the trees in your neighbourhood and see their environmental benefits using Treezilla.

1-3 hours

Elementary flame test

A simple demonstration of the characteristic colours produced by metallic salts in flames.

1 hour

A-level: virtual microscope

A collection of slides covering animal and plant tissues in the school curriculum.

1-2 hours or more

Quantitative PCR analysis

Real time PCR, human CYP2D6 gene variants, gene copy number, controls, population analysis.

1 hour

Pesticide analysis with GC-MS

Finding environmental pesticides by gas chromatography and mass spectrometry.

2.5 hours

VM for Earth sciences

Examine 3D specimens and microscope images of rocks, meteorites & moon rocks.

1 hour or more

Igneous & metamorphic rock

Hand specimens and slabs of rocks and minerals found in the Lake District.

1-2 hours

Sedimentary rocks and fossils

A reference set of hand specimens.

1-2 hours

Comparing ecosystem benefits with Treezilla

Investigation of environmental benefits of different types of tree.

30 mins

Treezilla

Map and record Britain's trees using Citizen Science.

30 mins or more

DNA quantitation

Spectrometry, micropipette, dilutions, quantitation, quality checks, controls.

2 hours

Virtual petrographic microscope

Thin rock sections viewed under a polarising microscope.

1-2 hours

Leaf Structure as Environment Indicator

Microscopic study of leaf structure relating to environment

The OpenScience Laboratory

Studying Science at the OU

Links to Open University courses in science

The Digital Geology Kit

View mineral, rock and fossil specimens in high-quality images and videos.

10 min - 10 h

Mount Teide geology

Virtual microscope slides of thin sections

10 min

Using the digital microscope to count leukocytes in blood samples

This activity allows you to use a digital microscope to test for the presence of infection in blood samples.

Campus Weather Station

Live data from The OpenStem Labs weather station on the Open University campus

Particle camera (S818)

Remote access Particle Cameras for Open University module S818

1 hour

A-Level Virtual microscopy

A collection of slides covering animal and plant tissues in the school curriculum.

The OpenSTEM Labs Outstanding Digital Innovation 2017THE Leadership & Management Awards

Planets and moons labcasts (S283, Moons MOOC)

Catch-up recordings of live interactive broadcasts

Blue Planet II labcasts

Catch-up recordings of live interactive broadcasts

Virtual Ocean Dives

A VR opportunity to experience a series of dives in a submersible at key locations around the world

3 - 4 hours

The OpenSTEMLabs

Facts, figures and videos about the OpenSTEMLabs

Hominid skull evolution

Explore the features of a collection of hominid skulls and take measurements that will enable you to determine the evolutionary relationships between them, investigating the march of bipedalism through the fossil record.

LA-ICP-MS

Laser ablation inductively coupled plasma mass spectrometer (LA-ICP-MS).

The OpenSTEM Labs Showcase

Spirometer

Use the spirometer to investigate the impact of smoking on lung function.

Virtual Skiddaw Public Access

A virtual field trip in the Lake District of the UK.

There are no experiments matching the current filter settings.