Eating for energy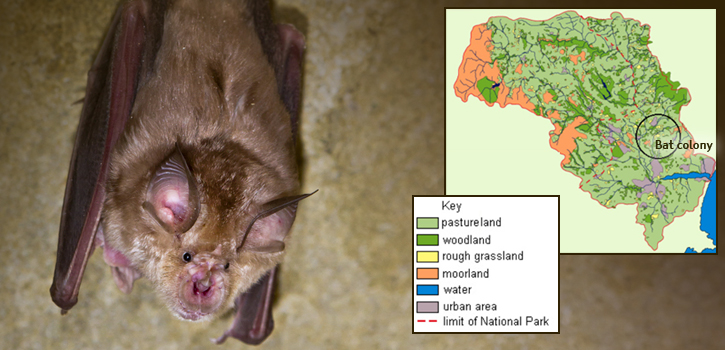 An investigation into why greater horseshoe bats are so rare in Britain today.
Background and nature of the task
This activity is one of five activities that form part of a virtual environmental field trip to the River Teign in the county of Devon, South West England. The activities can be studied separately or together. Further information can be found in the file at the bottom of this description.
After a short video introduction to the ecology of the bat, there are three exercises. The first requires you to calculate the number of cattle and area of pasture needed to sustain a colony with 100 juvenile bats. The second requires you to interpret some data relating to the diet of both adult and juvenile bats throughout the year, and the later sections involve consideration of the influence of other environmental factors on bat distribution, such as the effects of human activity and the use of agrochemicals.
When you have completed this activity, you should be able to:
list the key environmental requirements of the greater horseshoe bat;
use data supplied to calculate resources needed to support particular densities of organisms;
list five major food items of the greater horseshoe bat, and explain the sorts of factors involved in influencing bat diet at different times of the year, and different stages of life;
explain how changes in rural practices, such as the use of avermectins as antiparasitic drugs in livestock, the removal of hedges, the conversion of barns for domestic use, etc. can affect the distribution of the greater horseshoe bat.
Duration
This activity will take you approximately 1 hour to complete.
Visit experiment